How We Work
Our business is built around providing a straight forward, honest and reliable local service. We build a collaborative working relationship with our clients, enabling us to understand their individual needs and provide a quality service.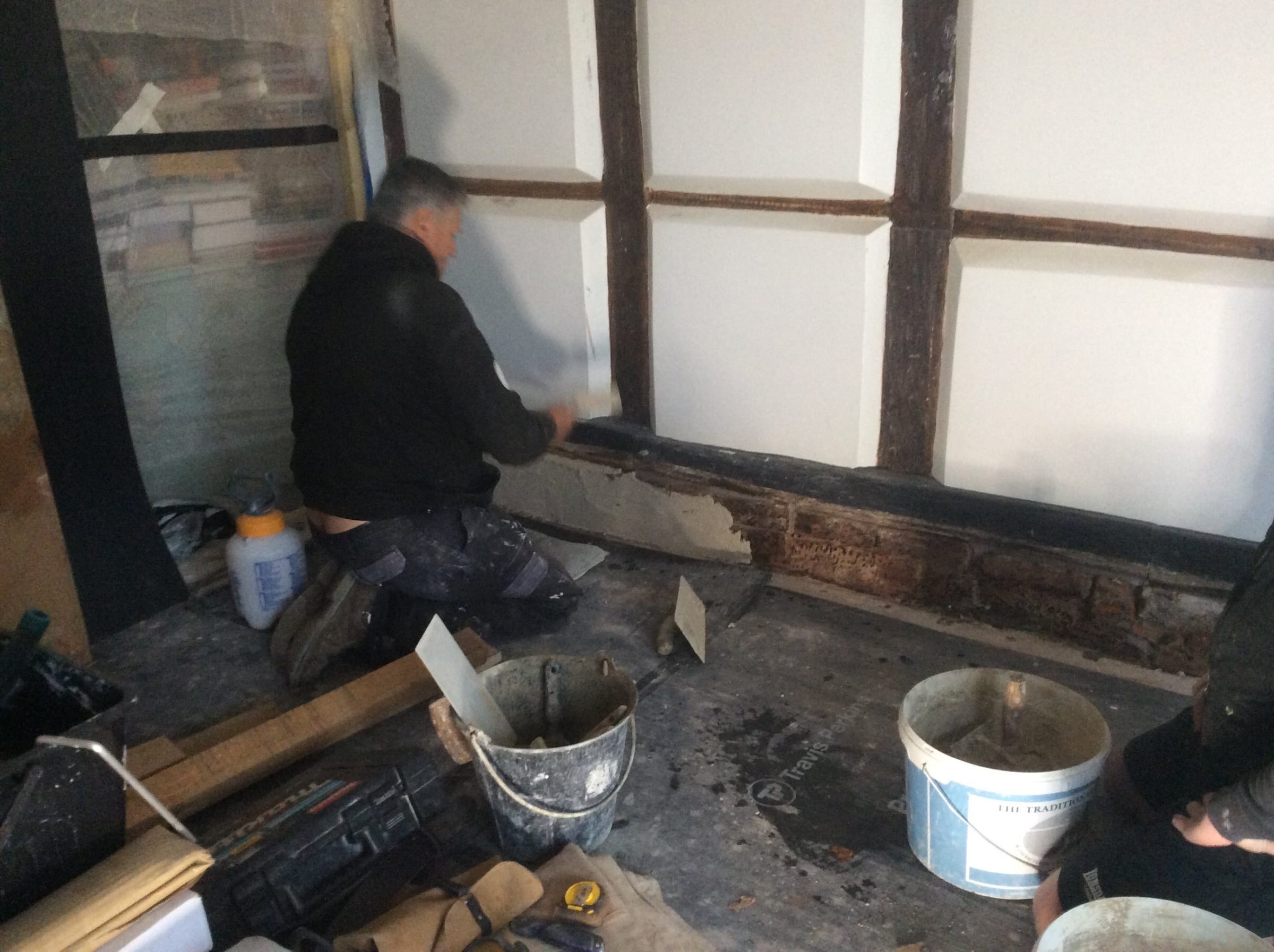 Tom's '4 questions to Problem Solving'
Tom and John often use this system when faced with problems in buildings. They find it a really effective approach for narrowing down the right solution for a building's problem.
1.
What is the problem?
2.
What is the cause of the problem?
3.
What are the solutions?
4.
Which is the best solution?
Job Procedure
Customers often ask how we operate. This outlines what happens, from the initial enquiry through to estimate, job completion and invoicing:
Step 1 – Initial call from you
Step 2 – Site visit to meet you and work out the best solutions for your needs
Step 3 – We work out costings of the works
Step 4 – We call you to provide a verbal bracketed figure (e.g. between £X – £Y)
Step 5 – When you are happy, price information will be sent to you by email or post
Step 6 – Once costings are approved, we request a 10% deposit
Once this is received a work start date is agreed
For larger works we request a further 20% deposit when the work starts
Step 7 – Work is carried out. At completion we check that you're happy with everything
Step 8 – Once the work is completed we send the final invoice, which includes deduction of any deposits
If you have any queries, including in an emergency please call Amy on 01432 761603 or send an email to amy@watkinscarpentry.com
"Good planning, good workmanship, good communications … now I have a great kitchen! I will definitely have Tom and John back for any other jobs I need.

Liz, Kings Acre, Hereford 12th Nov 2013
Thank you, a thorough job well done. The new fascia looks neat and tidy and no longer leaks! Much cheaper than another quote I had. John is a lovely chap. Explained everything well. Brilliant job.

Mrs Maxwell, Hereford 2015
"Tom and John have completed various Carpentry and Building jobs within our cottage. They are both talented and competent tradesmen who can find imaginative solutions to problems which may arise during the work.

Harvey and Jean, Herefordshire 4th Nov 2013
"I highly recommended Watkins Carpentry for internal and external work. Reliable, totally trustworthy, dependable, tidy brothers."

Mr Barker, Herefordshire 20th Aug 2014
"We are very pleased and fully satisfied with the works carried out on our house and property … Everything is always well planned, well organised and managed … and at a reasonable price."

Robin and Michael Lake, Herefordshire 15th Jul 2016
Customer Questions / FAQ
How soon can you do the work?
John and Tom usually have a lead time of 1 to 2 months, but we can often fit jobs in sooner.  It depends on our diaries.  It's best to phone and we can book your project or work in at a date that suits you and us.
Who do I contact?
Please contact Amy in the office (01432 761603) for enquiries.
How far do you travel?
We work in Herefordshire (Hereford, Ledbury, Ross-on-Wye), The Malverns, Hay-on-Wye, South Shropshire (the Herefordshire side of bordering counties).
Do you work in all weathers?
Some jobs require dry or warmer weather, e.g. restoration or repair of external timbers; treating external timbers with preservative or paint; outdoor plastering or decorating
Will there be dust in my house when you work?
Inevitably there will be some dust but we do our best to prevent it by using dust prevention techniques, e.g. screen off rooms/doorways and tape up gaps; hoover as we go using a building-site vacuum cleaner; we leave work areas clean and tidy.
What time do you start work?
We normally start work at 8am.  Sometimes we need to pick materials up from the suppliers first, in which case we'll let you know the start time.
How much will it cost?
Tom or John will phone you to arrange a date for the site visit.  At the site visit they will discuss exactly what you would like to achieve with your project.  They will assess what work needs to be done, measurements will be taken, etc.  They will go away to work out costings and we'll let you know.
Why do you ask for deposit?
We ask for a deposit as this helps you and us.  Once the deposit is received we can book the work into our diaries.